Present Laughter (2014)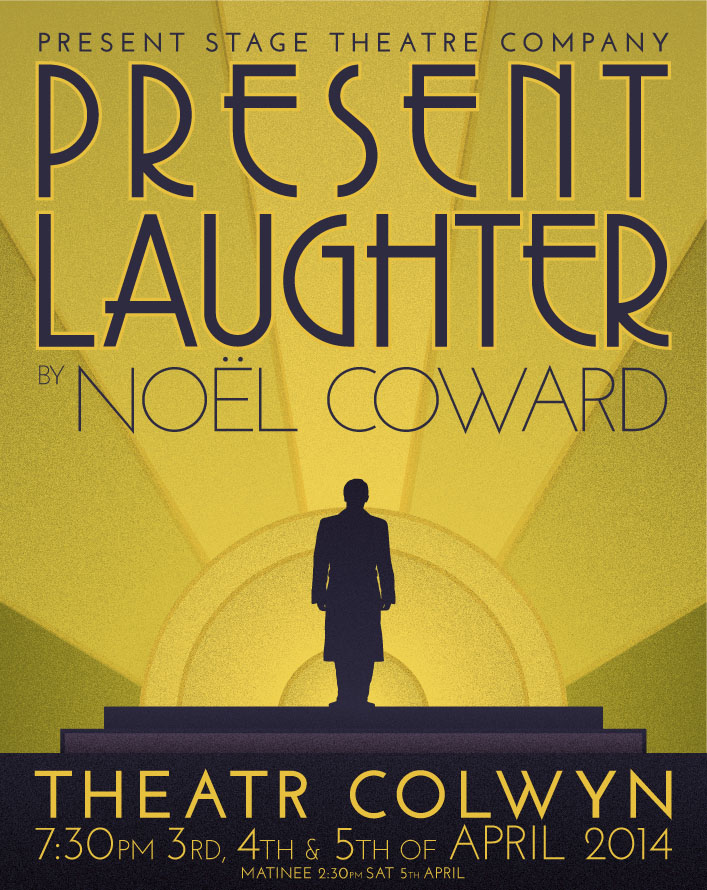 By Noel Coward
Directed by Carole Lauren
In Noel Coward's semi-autobiographical comedy, Present Laughter follows a self-obsessed actor in the midst of a mid-life crisis who freely indulges his considerable appetite for wine, women and sleeping late. Present Laughter was performed in April 2014 at Theatr Colwyn with the following cast:
Garry Essendine......................Chris Bainbridge
Liz Essendine..............................Judith Williams
Monica Reed...............................Helen Thomas
Joanna Lyppiatt...........................Lara Crawford
Roland Maule.....................................Ian Wilson
Daphne Stillington......................Lorna Hughes
Henry Lyppiatt.........................Richard Williams
Morris Dixon....................................Ryan Davies
Miss Erikson/Lady Saltburn....Karen Shepherd
Fred...................................................Ray Hughes
Stage Management Team
Anne Allsopp, Andrew Thomas, Jenny Allsopp and Nathan Bolland.
Hair and Make-up
Emily Fenwick
Front of House
Andrew Poynton, Gill Stretton and Lynne Chadburn
Noda Review by Lyn Emerson:
As soon as I entered the Theatr, I said to myself – I'm going to enjoy this play. The ambience took me straight to the period of the piece. The detailed set was faultless, the stage seemed wider with two exits towards the back of the set and even stairs up centre leading off stage. The props were of the era with well thought out, framed pictures and posters adorning the desk and walls. There was even a grand piano on stage. So much to take in but not at all cluttered. The excellent stage crew dealt well with all changes during the scene changes.
The comic piece, written by Noel Coward and first produced on tour in 1942 takes us through a few days in the life of popular actor and prima donna, Garry Essendine. A tremendous task for anyone to take on this role, but one which Chris Bainbridge took to like a duck to water. Hardly ever off stage, Chris delivered the long wordy speeches faultlessly, and he must be congratulated as being the king pin, holding the cast together throughout the play, an admirable performance. Judith Williams took the role of Liz Essendine, Garry's long suffering wife, with ease, just knowing how her husband ticks and trying to smooth out each episode of the complicated plot which is typical of Noel Coward works. Lorna Hughes shone as Daphne Stillington who actually sets the format for the play by losing her latch key and having to stay the night in the actor's spare bedroom. Helen Thomas gave a first class characterization of Monica Reed, Garry's faithful secretary of many years, who knew all too well how to deal with her 'over the top' employer. Karen Shepherd doubled up beautifully as Miss Erikson, the lackadaisical Housekeeper, never seen without a cigarette in her mouth, but at the same time able to deliver all lines with good diction, and the upper crust Lady Saltburn.
Invaluable contribution from Ryan Davies and Richard Williams as Morris Dixon and Henry Lyppiatt, Garry's Manager and Producer respectively, who both brought a tense atmosphere to the piece, trying to steer their star into the right orbit. The role of glamorous Joanna Lyppiatt, wife of Producer Henry Lyppiatt was in the capable hands of Lara Crawford who certainly extracted every theatrical moment from the script, and fully immersed herself into the role. Yet another excellent performance as Roland Maule from Ian Wilson, who is never phased by any role he creates or fails to entertain, as the over bearing dithering young playwrite, whose play Garry has agreed to read but who becomes a real 'pain' as the piece progresses. Nice cameo performance from Ray Hughes as Fred, the 'whistling' Butler.
This production was another feather in the cap for the Company and particularly the Director. An evening of sheer delight which whizzed by – I could watch it over again.