Doubles and White Lies (2016)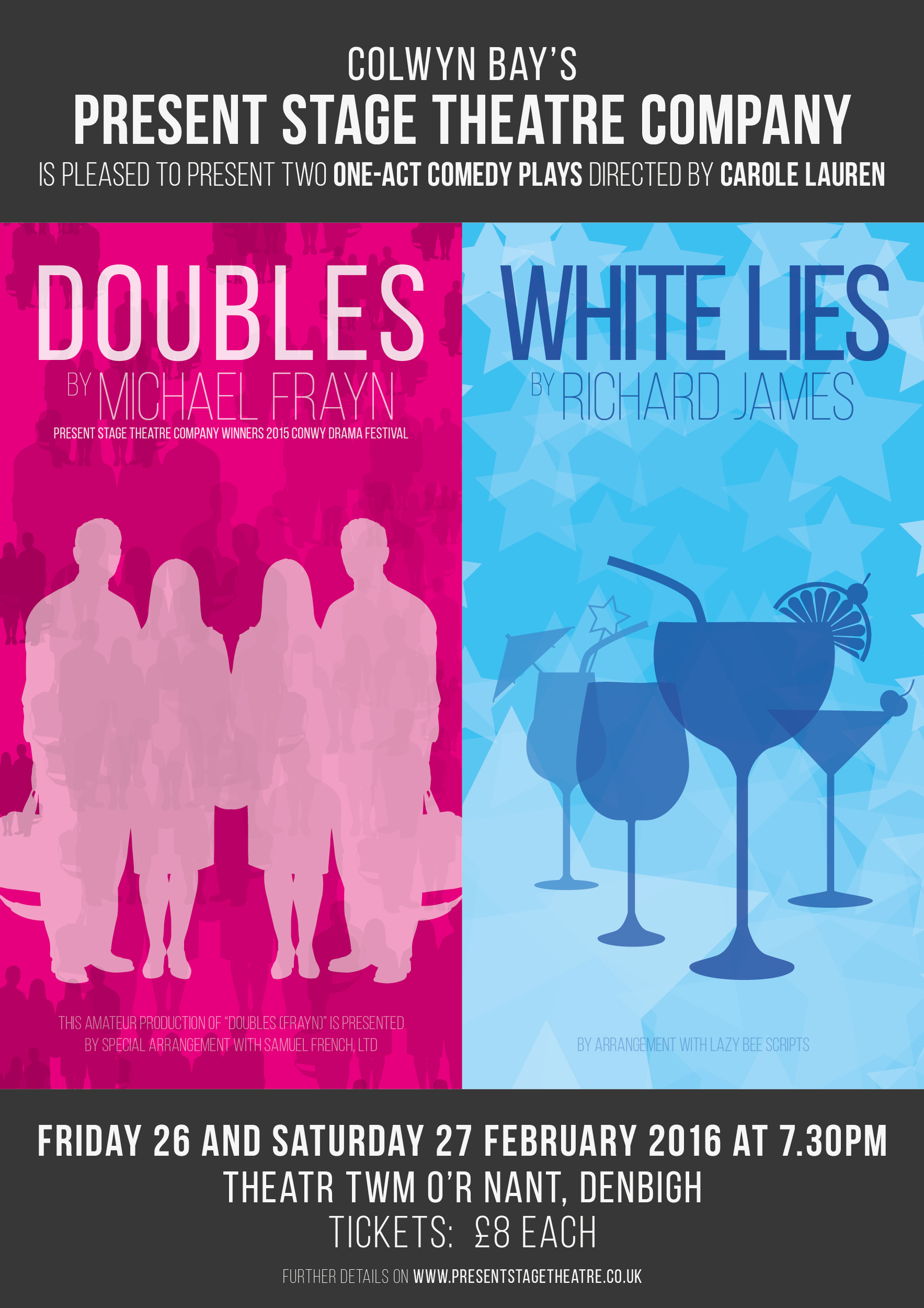 'Doubles' by Michael Frayn
'White Lies' by Richard James
Directed by Carole Lauren
A one act double bill.
Doubles and White Lies was performed in February 2016 at Theatr Twm O'r Nant
with the following casts:
Doubles
Miles...........................Richard Williams
Melanie..........................Judith Williams
Lawrence........................Gavin Baldwin
Lynn.................................Lorna Hughes
White Lies
Bea...........................Leah Bainbridge
Waitress......................Judith Williams
Ruth..........................Karen Shepherd
Judith............................Lorna Hughes
Pam..............................Helen Thomas
NODA Reviews by Lyn Emmerson
DOUBLES by MICHAEL FRAYN
It did not surprise me in the least that this production won the Conwy Drama Festival in 2015. The difference between the two couples in adjacent hotel rooms, was evident from the start. Miles and Melanie, were played by husband and wife team Richard and Judith Williams. Miles was so laid back and having to be told what to do by his bustling and may I say snobbish wife Melanie. The second couple, Lawrence portrayed by Gavin Baldwin and Lynn by Lorna Hughes were more casual and free and easy with their approach to the situation. Both couples were immaculate in their delivery of the script. It was pacey and their timing was superb.
The set was just right for the small stage, and props were all that you would expect of a hotel room. The four experienced cast brought out the best in situation comedy and thoroughly deserved the approval they received from the audience.
WHITE LIES by RICHARD JAMES
The reunion of four University friends after 25 years was the setting for this one-act comedy. Unravelling their experiences, true or false, since they last saw each other was the key to the play. Leah Bainbridge was cast as Bea, the fashion conscious, boastful blond, complete with Rolex watch, and put her mark on this character from her first entrance. She would stamp on anyone which was evident from her treatment of the long-suffering Waitress, played by Judith Williams. Karen Shepherd gave us a typical 'stay at home housewife' portrayal of Ruth, but brought out the caring side of her role. Having said that, she was the instigator in the downfall of Bea. A good characterisation from Lorna Hughes of Judith, the third member of the group. Lorna drew us a timid, hard done to picture of Judith who had started playwriting to help overcome her traumatic romantic experiences. Helen Thomas arrived on the scene as Pam, the fourth member of the group, shabbily dressed, brash and couldn't care less that people knew she spent a spell at Her Majesty's pleasure, for fraud. The cast gelled beautifully and brought out the best in each other. Each character was so expressive and believable, I could relate to - I know someone like that!! The set was adequate for this excellent piece, great cast, resulting in first class entertainment.