Bouncers (2011)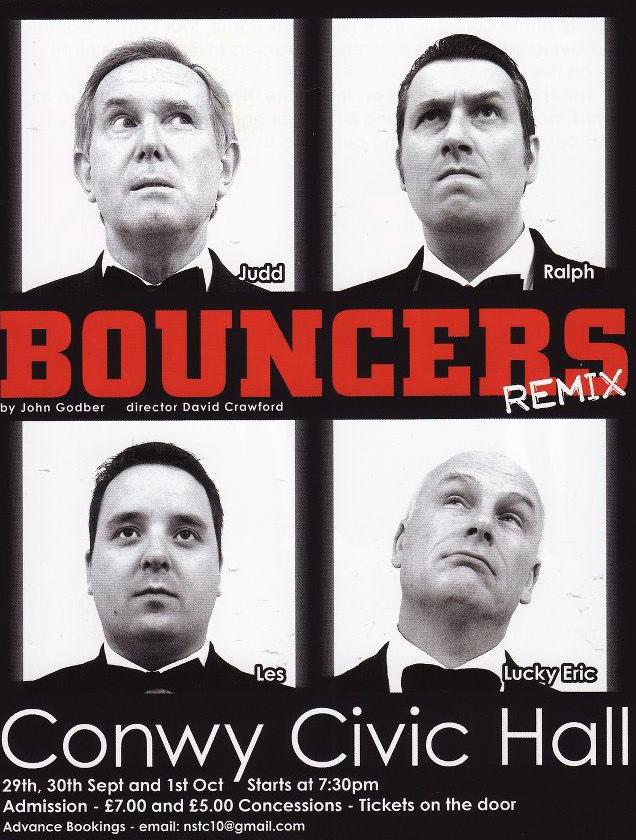 By John Godber
Directed by David Crawford
'Bouncers', John Godber's most popular play, is set in and around a northern nightclub called Mr Cinders, with the action focusing on the exploits of the four doormen and their customers. The play creates a vivid picture of the relentless hedonism of northern night life with its raw energy, flashing disco lights, and raucous lads and lasses out on the town.
Bouncers was performed at the Conwy Civic Hall in September 2011 with the following cast:
Lucky Eric..............Ian Wilson
Judd............Richard Williams
Ralph...........Chris Bainbridge
Les.......................Ryan Davies
NODA review by David Huxley
Focused on a northern night club, the production shows one night in the lives of four bouncers and the customers who pass through their doors. There was skilful direction by David Crawford, who drew out and enhanced the humour of the play. It was loud and crude and the audience loved it. The many roles were played by only four male actors who seamlessly alternated from bouncers to blokes and girls out for a good time. They were convincing in all their roles, but seemed to relish their time as women, the scene in the hairdressers was particularly hilarious. The teamwork was excellent, the timing slick, the pace snappy but thoughtful when needed, such as Lucky Eric's social commentaries. The performers reached out and invited the audience to join them; they broke down the fourth wall and included us in their observations. However, they cleverly rebuilt the wall when the moment was over. The links between the scenes were smooth, the well-chosen backgroud music helping to create the right atmosphere. The set was minimalistic but effective – we immediately knew where we were. Bouncers was a great ensemble piece of theatre. Congratulations to Richard Williams, Ryan Davies, Chris Bainbridge and Ian Wilson for strong, confident performances. The reception they received said it all.